LONDON, Mar 7, 2023 – (ACN Newswire via SEAPRWire.com) – HotelRunner, the leading accommodation and travel technologies platform, launches Autopilot at ITB Berlin 2023. Having garnered great attention with its innovative business intelligence platform 'Insights' which was unveiled last year, and getting the new year off to a running start with recent funding news, HotelRunner introduces its AI-driven, intuitive, and smart platform to automate the sales, distribution, and operations of the accommodations.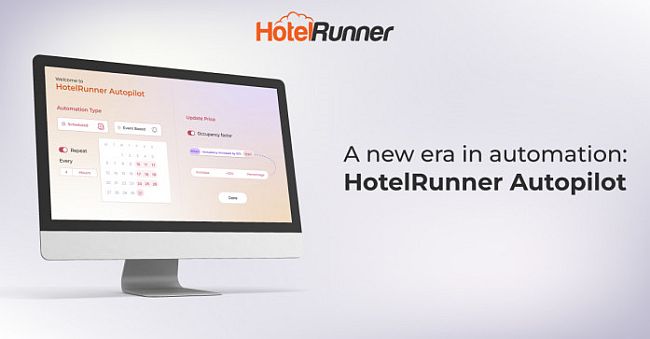 HotelRunner Autopilot – HotelRunner launches 'Autopilot' ushering in a new era of data-driven smart automations in travel and hospitality.
Setting out with the goal of automating all daily operations of a hospitality business, from marketing activities to pricing strategies, HotelRunner introduces Autopilot. The new platform leverages the reservations volume processed in HotelRunner which is more than 3 million in the past year alone.
Accommodation businesses can effortlessly implement sophisticated sales and pricing strategies by transferring all their daily operations and industry expertise to the Autopilot platform as a set of rules and automations.
As the driving force behind the industry with its superior technology, HotelRunner stays ahead of the curve in meeting the future needs of all the stakeholders in the travel and accommodation industries. The Autopilot platform, born from years of research and development and industry experience, has been designed in a way that accommodations can interact with the entire tourism ecosystem. Not only it enables a property to automate its operations, but also evolves to encompass the collective knowledge of all industry players contributing to a property's success. Thus, HotelRunner leads the creation of a first-of-its-kind automation marketplace. With this innovative platform, HotelRunner maps out the future of tourism technologies.
"The Autopilot platform is a crucial component of our comprehensive vision to serve and advance the travel and hospitality industries. We began the era of data-driven decision-making in hospitality with the launch of the Insights platform in November last year. With the Autopilot, we firmly build upon this vision, cracking the doors of a new era where software serves people, rather than the other way around," says Ali Beklen, Founder and Managing Partner of HotelRunner.
"With our innovative Autopilot technology, we challenge conventional wisdom in hotel management and offer a fresh perspective to the industry. By leaving manual processes behind, we offer our partners effortless efficiency and strive to increase their profitability. Driven by AI and evolving constantly, the Autopilot is just the starting point of the revolution we aim to ignite in the travel and hospitality industries. We are setting a new standard for industry players to do business and interact with each other," adds Arden Agopyan, Founder and Managing Partner of HotelRunner.
The Autopilot platform allows properties to:
– Automate pricing and availability by seasons, holidays, and weekends.
– Monitor reservation activity in real-time and take action according to the demand.
– Benefit from AI-based recommendations and alerts to maximize their profits.
– Minimize the workload with automations that work fully integrated with their PMS and channel manager.
HotelRunner Autopilot has been in the closed beta program for one year, and has already been contributing to the increasing revenues of the properties using the platform. Click here to get detailed information about the HotelRunner Autopilot platform and to start using it. https://hotelrunner.com/en/features/autopilot/
Contact Information
Suheyla van Taarling
Head of Brand
suheyla@hotelrunner.com
SOURCE: HotelRunner
Copyright 2023 ACN Newswire. All rights reserved. (via SEAPRWire)